Aotearoa / New Zealand is a hub for creative talent, and representation is important. We asked the Smithstreet team about some of their favourite local queer talent – read about them here:
PICKLE DARLING
Ōtautahi / Christchurch musician Lukas "Pickle Darling" Mayo is making waves with their unique sound. Their latest album release, Cosmonaut, is aptly named, with an out-of-this-world spacey indie-pop sound, with a distinctive Kiwi twang. A talented singer-songwriter, Pickle Darling shows an incredible ability to shoehorn complicated, messy emotions into hushed, light-hearted and heart-warming hushed wee ballads.
Check them out here.
Miss Geena
Miss Geena is the stage name of Geena Cavill, a singer, songwriter, music producer, drag performer, and video director all in one, living in Tāmaki Makaurau / Auckland. With performances in clubs across Aotearoa / New Zealand, to public shows and appearances at LGBTQ+ events, charting in New Zealand iTunes Top 20, Geena has become a well-known name in the LGBTQ+ community of New Zealand.
Drawing inspiration from Britney Spears and Lady Gaga, Miss Geena is a pop princess, perhaps best recognised from her time as a contestant on House of Drag Season 2.
Check out her YouTube.
RANDA
If you're not on board with Tāmaki Makaurau / Auckland rapper Randa already, you need to be.
Since playing their first show in 2012, Randa has made waves with punchy singles like Toughen Up, which explores Aotearoa / New Zealand's celebratory culture of toxic masculinity. Randa explains to UTR: "'Toughen Up' explores themes of mental health, the internal / external pressures of feeling like it's not okay to feel weak or depressed during challenging times. This song dives into the state of chaos which ensues when one tries to fight off their natural vulnerabilities. Musically inspired by Kelis and The Beastie Boys, lyrically inspired by societal outlooks regarding unpleasant emotions."
Check out the retro video to Toughen Up (directed by the hilarious Hamish Parkinson) here.
Rooster Tails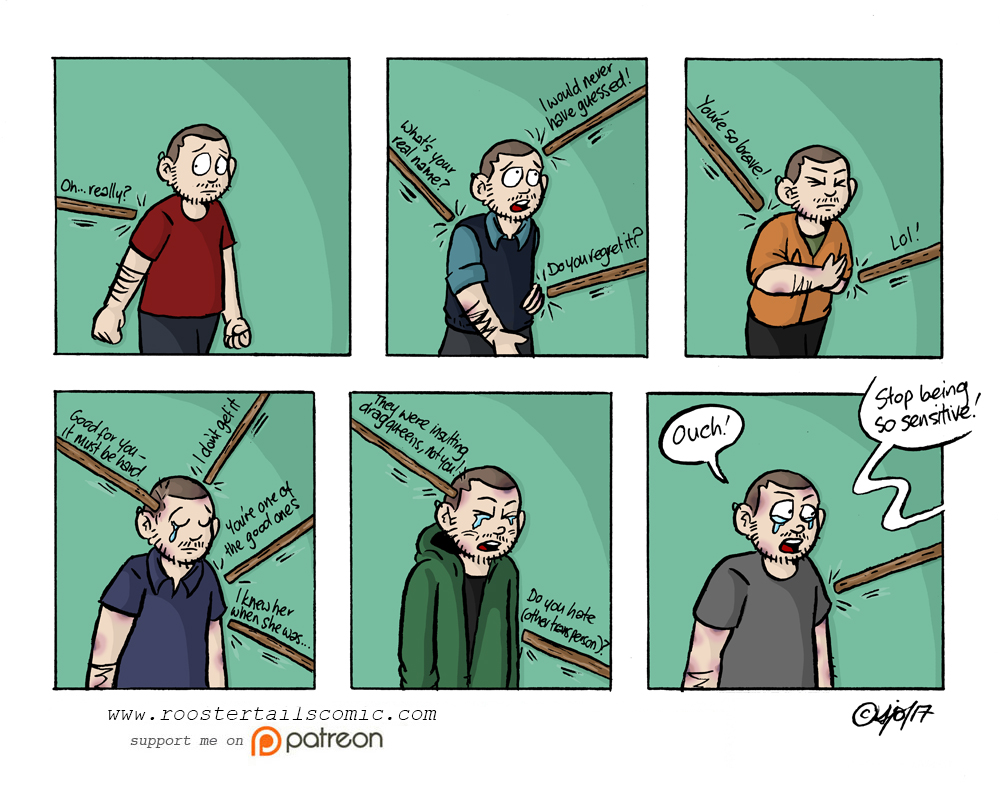 Tāmaki Makaurau / Auckland-based comic artist Sam Orchard explores the life of a "geeky transguy in New Zealand" in his comic Rooster Tails. Hilarious and pun-filled, this nerdy comic shares vulnerable and honest experiences with anxiety, gender, and emotion.
Sam has also served the LGBTQ+ community as Programme Director of Samesame But Different, Aotearoa / New Zealand's only LGBTQIA writers festival, and as Project Co-founder of #OutLoud, an initiative aiming to share the stories and wishes of the queer, gender diverse, intersex, takatāpui, MVPFAFF or rainbow communities* around Aotearoa / New Zealand's mental health and addiction services.
Check out Rooster Tails.
Maxwell Apse
Maxwell Apse is a non-binary composer and comedian from Te Whanganui-a-Tara / Wellington, who gained significant recognition during last year's lockdown for their viral hit Ashley Bloomfield, a hilariously loving tribute to Aotearoa / New Zealand's Director-General of Health.
Check out their YouTube, where they post dancey feel-good anthems.
Liam Coleman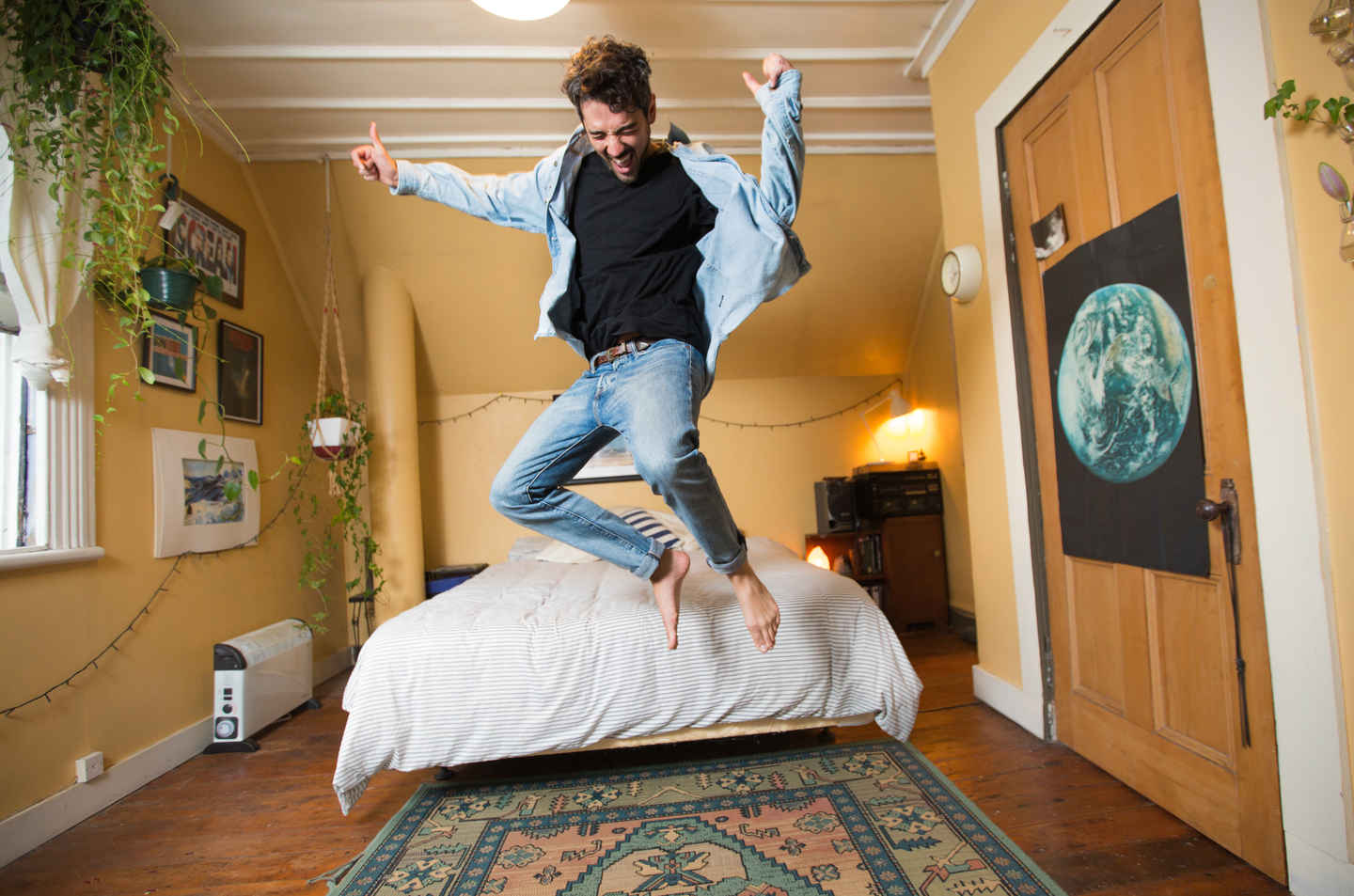 Liam Coleman is an actor and writer in Tāmaki Makaurau / Auckland. Last year's PLAY, which centres around three gay men trying to figure out their place in the gay/bisexual scene in Auckland, while exploring the concepts of monogamy and polyamory, was Liam's first time writing for the stage.
That said, Liam's certainly no novice to writing hilarious interpersonal drama, having picked up multiple festival selections for his web series These Two (Official Selection: Miami Web Fest 2020, AltFest New York 2020, Los Angeles International Film Festival Indie Short Fest 2020), amongst high praise in the 48 Hours Film Festival.
Check out These Two, written and starring Liam Coleman, and produced by Smithstreet Studio Director Amber Leigh Stevens.
Coco Solid
Coco Solid is a multi-disciplinary artist from Tāmaki Makaurau / Auckland (Ngāpuhi), with an impressive repertoire of talents as a musician, writer, director, producer and artist. Her work is driven by her desire to make representation of diverse life experiences more visible and accessible. She explains, "I just want a variety of stories to be told, I'm sick of getting the same old stories told to me over and over again. The same authoritative, white male perspective… It's the 21st century, where the women at, where the brown people at, where the different genders, different orientations, different class perspectives, different struggles? I'm sick of it."
See more about her and what she's up to on her website here.
Ruby Reihana Wilson
Ruby Reihana Wilson is a non-binary a freelance film producer, production manager and lighting designer for theatre in Tāmaki Makaurau / Auckland (Ngā Puhi, Ngāti Hine, Ngāi Tu). Ruby graduated from Unitec School of Performing Arts in 2009 with a Diploma in Performance Technology, majoring in lighting design, and has since up-skilled into many other roles within the arts industry.
With a vast range of experience, ranging from dance, to comedy, to music, to poetry, to festivals, and having worked in multiple roles from performing to technical operation, management, and creative producing, Ruby has an in-depth knowledge of how best to plan out, work, support and enjoy a successful creative process.
Check out two of their short films on the New Zealand Film Commission's library.
Brown Boy Magik
Tāmaki Makaurau / Auckland producer, DJ, event organiser (Fully Explicit and queer strip night BODY HAUS), and multi-dimensional creative, Brown Boy Magik released his debut album last year. With its title representing both his South Pacific heritage and his trans masculine experience, the album is a vulnerable display of the nuances of identity and culture, through a dance-worthy 13-track album, with tunes ranging from club-oriented experimental electronic to moody, meditative instrumentals complimented with hushed vocals.
Have a listen here.
AWA PUNA
Awa Puna is a trans filmmaker from the Kapiti Coast, winning awards at the 2015 NZ Student Film Festival, as well as being named Most Inspiring Young Person of the Year at the Wellington Pride Awards the same year.

In 2017, a documentary was made about her: Born This Way: Awa's Story. Bearing honest and vulnerable truths, this sweet and touching documentary won three awards at the 2017 New Zealand Television Awards: Best Director (Mitchell Hawkes), Best Cinematography (Bevan Crothers), and Best Editing (Justin Hawkes), along with taking home the Best Short Feature Documentary at the 2018 DocEdge Film Festival.
Check out Born This Way: Awa's Story.